If you recently attended our Mount Hope Cemetery Walking Tour – Famous Families, Freedom Seekers and Forgotten Soldiers – these resources for further learning about Kitchener's Mount Hope Cemetery and some of Kitchener's History will interest you.
Books about Berlin/Kitchener history relevant to the Mount Hope Cemetery walking tour
NOTE: Some of these volumes are out of print but can be found in the Kitchener Public Library, second hand book shops and online resellers, such as AbeBooks.
A History of Kitchener, Ontario. W.V. (Ben) Uttley, Wilfred Laurier University Press, 1975
Berlin, Canada: A Self-portrait of Kitchener, Ontario before World War One. Sand Hills Books, St. Jacobs ON 1979
Kitchener: An Illustrated History. John English and Kenneth McLaughlin, Wilfred Laurier University Press, 1983
Victoria Park 100 years of a park & its people. rych mills, Twin City Dwyer Printing Co. Ltd., 1996
The Battle for Berlin, Ontario: An Historical Drama. W.R. Chadwick, Wilfrid Laurier Univ. Press, 1992
Kitchener (Berlin) 1880-1960. rych mills Arcadia Publishing, 2002
The Queen's Bush Settlement. Linda Brown-Kubisch, Natural Heritage Books, 2004
Century celebration : 1912-2012 : Kitchener marks 100 years as a city. Christian Aagaard, Metroland Media Group, 2012
Flash from the Past. Jon Fear and Chris Masterman, Biblioasis, 2018
Waterloo Historical Society: Annual Volumes – Grace Schmidt Room of Local History at KPL Central Library
Other Resources mentioned on the Mount Hope Cemetery walking tour
Cemetery Transcripts in the Grace Schmidt Room of Local History, Kitchener Public Library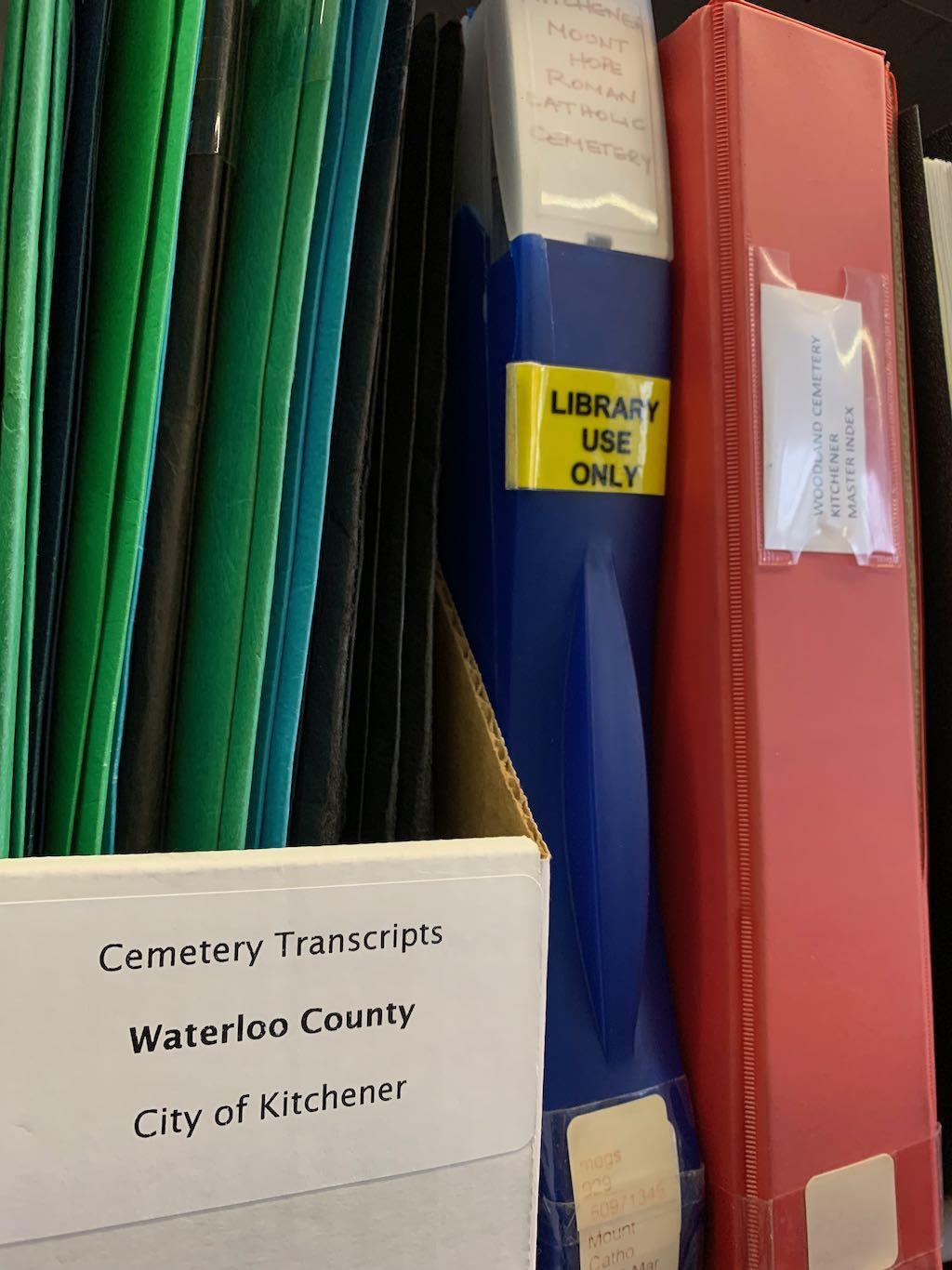 Did you know that the Grace Schmidt Room at Kitchener Public Library has a collection of cemetery headstones transcriptions from KW and Waterloo region?
Transcriptions of headstones in Kitchener Mount Hope Cemetery:
Kitchener Mount Hope Cemetery / Waterloo Region Branch, Ontario Genealogical Society
Book | Waterloo Region Branch, Ontario Genealogical Society | 2008
Available at KLP Central Genealogical Coll (929.50971344 WateC Mount)
The Waterloo Region chapter of the Ontario Genealogical Society produced these transcriptions a number of years ago. The cemeteries have not been 'read' in the past few years so more recent graves are not included in these catalogues. The local branch of the OGS disbanded. The OGS holds copyright to the cemetery transcriptions but they do sell copies. These print copies are available and viewable in the Grace Schmidt Room at KPL and you can go there to search for a family member or name if somebody in your family is buried in Mount Hope Cemetery or any other cemetery in Waterloo Region – but you're not sure where!
Curious to learn more about cemetery symbolism?
A guest on a recent walking tour brought her own copy of "Stories in Stone: The Complete Field Guide to Cemetery Symbolism and Iconography" by Douglas Keister. It was fabulous to have her share this bonus material at each of the stops as we visited various monuments in Mount Hope Cemetery. The book is also available at Waterloo Public Library and for purchase online, or your local bookstore!