World War One history can seem daunting or complex. But when you bring it down the a hyperlocal level, it comes to life in a new way. If you recently attended our Great War Stories walking tour led by Todd Bowman you will be interested in these resources for further learning about World War One and the stories from small town Berlin, Ontario.
Books & articles about Berlin/Kitchener history relevant to World War One
The Battle for Berlin, Ontario: An Historical Drama. W.R. Chadwick, Wilfrid Laurier Univ. Press, 1992 – available at Kitchener Public Library
"The Experience of Canadian Women in the First World War", Waterloo Historical Society, volume 89 (2001) – available in the Grace Schmidt Room of Local History at Kitchener Public Library
Waterloo Historical Society: Annual Volumes – Grace Schmidt Room of Local History at KPL Central Library
Soldier Cards Collection at Kitchener Public Library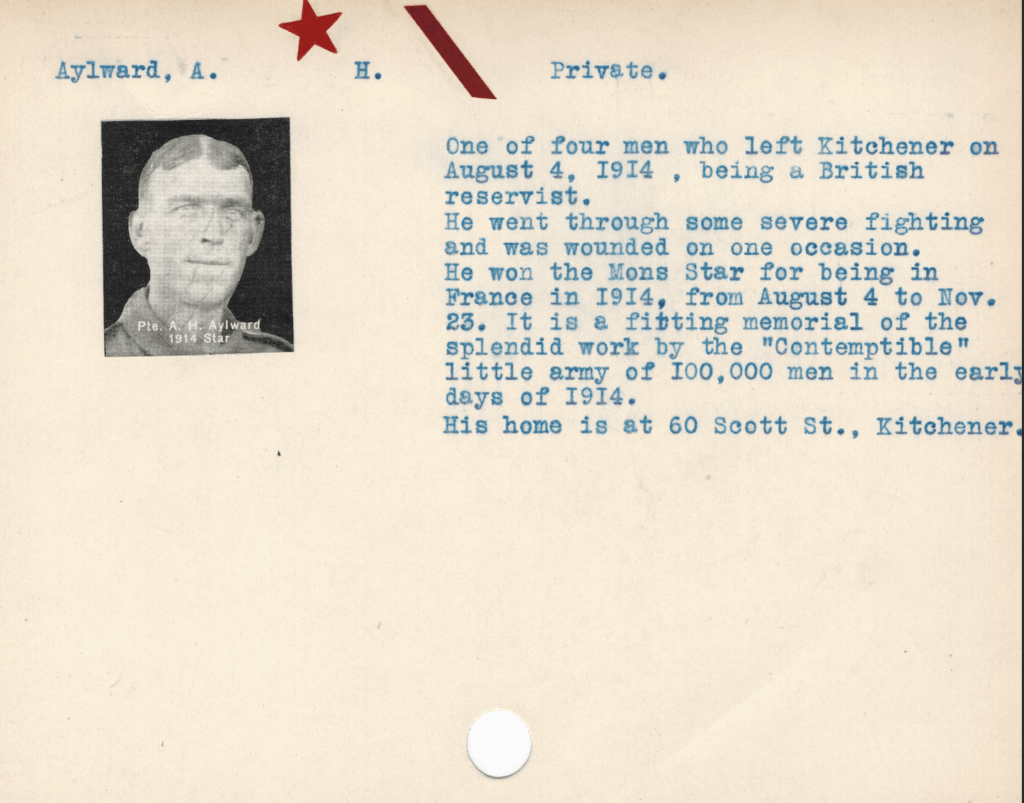 Many communities made efforts to honour the courageous men and women who enlisted in wars around the world. In Waterloo County, Kitchener Public Library staff created Soldier Information Cards for those who served Canada in the First and Second World Wars. They were created during and shortly after each war, using newspaper and magazine clippings, photographs, and information contributed by returning soldiers and their families.
Due to the fragile nature of the original Soldier Information Cards, access to the physical collection is limited.
Due to the generous commitment of over 100 library volunteers, the Soldier Information Card are digitized into sets and made available online on the History in the Making website.
Additional Resources
What resources would you add to this list? Drop a comment below to let us know!